Accessible Holiday Accommodation
Searching for the perfect holiday accommodation over the Summer break or maybe just a weekend getaway? Unfortunately this is not always a straight forward process for everybody. For those with a disability, seeking out accessible holiday accommodation can be a challenge.
Kerry Williams is the founder of "Accessible Accommodation — aimed at providing travellers with a disability an optimum experience when they want to take a break." (Carmody, 2021) Kerry was first confronted with the limitations of finding suitable holiday accommodation when travelling to Tasmania with her mother Barbie, who has MS. The shower accessibility was shocking and left Barbie and Kerry having to improvise.
"Kerry told her mum she should not have to compromise and it should not be that difficult to book accessible accommodation for someone with a disability."
This experience was the catalyst of Accessible Accommodation, "offering accessible accommodation for Holiday, Respite, Short-Term and Medium-Term stays for anyone with a disability, including elderly & NDIS participants all over Australia." (Holiday, Respite, Short-Term, & Mid-Term stays. Book with confidence, What you see here is what to expect on arrival., n.d.)
There is a huge demand for accessible accommodation, this is reflected in the annual spend estimation for holiday makers with a disability in 2021, which was reported to be $3.2 billion. Tourism Research Australia have shared 7% of Australians are searching for accessible travel options. It was also found that the number doubles when including support workers and others who may be travelling with someone with a disability. (Carmody, 2021)
Searching and booking accessible accommodation can also be risky, as what you see is not always what you get. Accessibility needs are not a 'one size fits all' solution, they are often as unique as the individual looking to book their next holiday. In an attempt to rectify this disappointing outcome when booking holidays, a number of platforms have made drastic improvements and implemented a range of tools to ensure the process of booking accessible accommodation is more available and reliable.
Stuart Jenkinson, a wheelchair user, said "It was important travel and accommodation providers gave accurate information about accessibility facilities." (Carmody, 2021)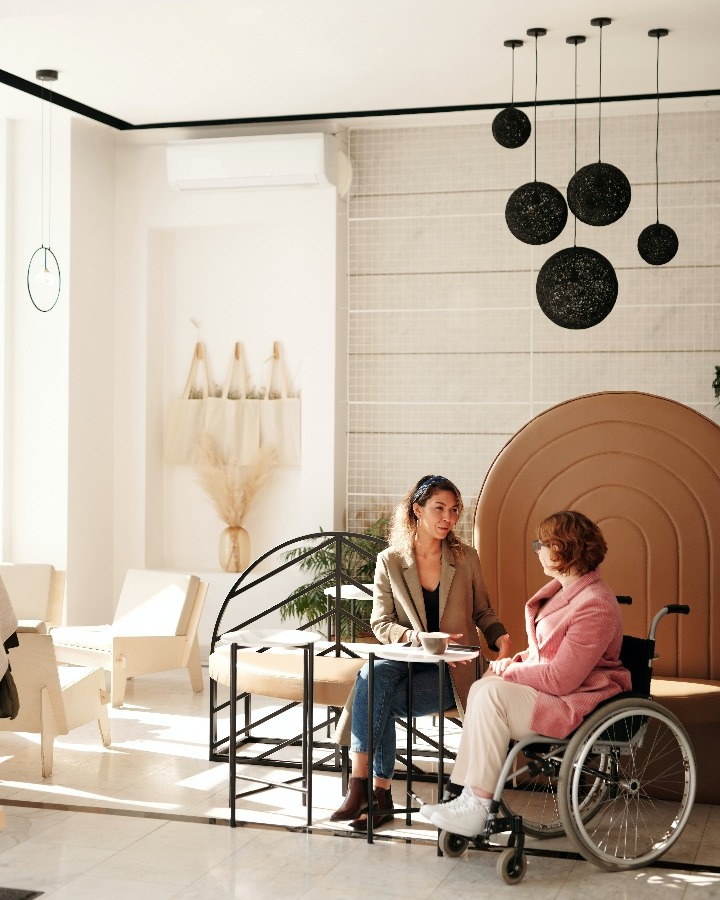 In recent years holiday booking platforms across the board have made innovative changes to improve their user experience for people with a disability. At the forefront is Airbnb, "We believe that anyone can belong anywhere – and we want to make it easier for people with disabilities and other accessibility needs to travel." In 2018, Airbnb highlighted the release of 21 new accessibility filters, giving all travellers the tools to find the perfect holiday accommodation that met all their needs. The option to filter your stay results based on your preference of accessibility features has been instrumental in removing boundaries for people with disability who wish to have equal access to travel services, accommodation and experiences. Want to know how Airbnb are making it easier to travel with them? Read more here: Accessibility at Airbnb
Stayz have an Inclusion policy on their website, outlining their commitment and position on Accessibility and Nondiscrimination. Their accessibility statement to property owners reads,
"We encourage you to communicate with guests about any accessibility features in your home and to accurately describe your property on your listing."
The website filter allows for travellers to select from lift or wheelchair accessible hotels. (Trust & Safety, 2021) Other holiday booking platforms that have been created specifically for people with disabilities in mind, include Disabled Holidays, who promote "Travel without limits" and Leisure Options, who offer "Great holidays and travel for people with disabilities". Both platforms have versatile offerings, insightful travel assistance, including group travel options and detailed filters, creating a hassle free, customised booking experience from start to end.
The travel industry still has a long way to go to accommodate and provide people with disabilities equal access to travel services and accessible accommodation. However we are seeing increased awareness and huge improvements from travel platforms, holiday accommodation providers, property owners and travel services. Accessible travel has never been so readily available, with a large range of travel options to choose from in 2022. Given the high demand from people with disability eager to travel, the industry is positioned well for continual growth and improvement.
Carmody, A. N. J. (2021, May 28). Kerry's holiday with her mum was perfect, except for one pretty big thing. ABC News. https://www.abc.net.au/news/2021-05-29/travel-with-a-disability-is-no-mean-feat-in-australia/100157320
Holiday, Respite, Short-Term, & Mid-Term stays. Book with confidence, What you see here is what to expect on arrival. (n.d.). Accessible Accommodation. Retrieved January 17, 2022, from https://www.accessibleaccommodation.com/
stayz.com.au/trust/owner. 2021. Trust & Safety. [online] Available at: <https://www.stayz.com.au/trust/owner> [Accessed 18 January 2022]